MY NAME WAS RICKY



Life As I Know It
All About Ricky
First, let me be very clear and up front ... in case you haven't guessed it my "real" name isn't Ricky. Ricky is my Blog name. But ... once upon a time ... I was Ricky.

​For the first three weeks of my life my parents called me Ricky. My mother loved it. My father ... not so much. Eventually they decided that I needed a more "traditional" Dutch name. And so ... as quickly as it began ... my time as Ricky came to an abrupt end. I became Gerardus Henricus Cornelius Janssen. Suffice to say that is a far cry from plain old "Ricky". But you can call me Gary now.
---
Why This Blog

But all that occurred way back in 1962. I've grown up since then. And, in that time, I've learned a lot of things and just wanted to create a forum where I could share what I've learned about life, share my interests and a place where I could just vent if I need to. I love piddling around on my computer and I just have this need to build something. So a web site seemed a natural extension of that. This blog is my first effort. I hope you enjoy it.

"Life As I Know It" is the theme of my blog. I'll be sounding off on my perspective and outlook on various aspects of life.

In addition, I'll be talking about other interests that are important to me ... and hopefully to you as well.

From my love for my Cowboys and Raptors. To my favorite shows like The Walking Dead, Game of Thrones and House of Cards.

My favorite "appliance" - my Apple Mac. To the trial and tribulations of Love, Life and Family. A

s well as my home town of Niagara Falls I hope to touch on all of it.

​And my wish is that you touch on it too.

Perhaps together we can expand each other's horizons in the process.

My dad, John, was an Engineer. Funny, when I was little and didn't know better, I thought he drove a train. But as I found out he was a designer of things. His forte was steel mills. But he also helped design a number of things including the local tunnel that allows cars to pass under the Welland Canal. I always thought it was pretty cool that he could point to things and say "I designed that". In my professional life I don't get much opportunity to do that. So I'm hoping that this web site will be something I can look at and say "I built that". Thanks dad.​

This web site also allows me to work on my web design skills. As my first web site I thought I'd keep it simple and start with a simple
blog. After hunting around for a platform to build from, and considering my lack of technical skills, I decided on Weebly's web design platform. I looked and evaluated several products and it became apparent to me that Weebly would accomplish most of what I wanted to do and it provided the best bang for my buck. There are other products, some more feature rich than Weebly, but Weebly seemed to match me the best.
My History

I'm the youngest of 5 children. Yup, I'm the baby. My parents came to Canada from Holland in 1953 a few years after World War II. After witnessing war for so many years, they wanted to create a better life for themselves and for their future family. They came with three of my mom's brothers and a sister-in-law. They didn't speak a lick of english, had but a few dollars to their name and left their many remaining brothers, sisters and parents behind. I always thought that was very brave of them to make that sacrifice. They arrived in Winnipeg, worked many odd jobs to make ends meet and eventually found their way to Ottawa. My oldest brother was born there and shortly afterwards my father got a job as a draftsman for an engineering company in Niagara Falls. Then, the Honeymoon Capital of the world! He first moved on his own to get things settled and my mom and brother soon followed.

Soon after came another brother, a twin brother and sister, and ... after four children ... they still had me. Don't know what my parents were thinking. Gluttons for punishment I would have to say. But, their pride and joy had arrived at last. Frankly, I think they just kept having kids until they got it right. LOL. Over the years my dad worked his butt off and advanced himself to a Project Manager. My mom, Catharina, was a stay-at-home mom and we five kids kept her hopping. I had a pretty good child hood. Typical middle class I guess you could say. Played with my buds. Played lots of sports. Always trying to keep up with my older brothers. We went on several family vacations. Usually to a cottage up north where we did a lot of fishing. But my favorite vacation was our two week road trip to Florida where I went to the Magic Kingdom for the very first time. Back then it was just the Magic Kingdom. No Epcot. No Disney Studios. No Animal Kingdom. No water parks. Just the Magic Kingdom. Nonetheless, all I had to say was WOW! I've had the good fortune to be back many times since with my wife and kids. But I'll never forget that first time.

---

It was a great time to be a kid. In the summer time it was pretty much get up, have breakfast, go outside and play all day (parents didn't have the worries that we have today), pop back for lunch and dinner, and make sure we were home when the street lights came on. We had TV but not the same diversions as exist today. No 300+ channels. No Netflix. No computers. No smart phones. Outside, with your friends, that's where the action was. Things were simpler and a lot of fun.

As I grew older and rid myself of my paper route (man I hated that thing), summer time was the time to get the proverbial summer job and make some real money. I think my first summer job paid $2.15/hour. But we were fortunate. At the time Niagara Falls had an abundance of summer jobs for kids in high school and university. My first summer job was at an indoor amusement park. It was a mini-carnival in the Skylon Tower. It had this Haunted House ride but most of the contraptions in the ride that were supposed to scare people never worked. So we would have to go inside and spring out from the shadows to scare people just so they could get some kind of thrill. It was hilarious seeing people's reactions and it was a lot of fun. The following summers until I graduated from university I worked at the Maid of the Mist. I was a ticket seller for the boat ride that took passengers to the base of Niagara Falls. It was by far the best attraction in Niagara Falls. If you were going to see the falls closeup, you had to ride the Maid of the Mist. I had many great summers there and had the good fortune of working with a lot of great people. My only regret is that I wish I had kept better in touch with them. I also met a few celebrities while working at "The Maid" - John Ritter, James Garner, Mary Tyler-Moore and NBA Legend Bill Russell.

High school was awesome! I loved high school. We had so many great times. A lot of great friends and a lot of great memories. I had a lot of very good teachers. You know, the kind of teachers that just relate well to teenagers. Had my share of duds too. But the good outweighed the bad. I did pretty well academically. Played basketball and soccer. We won a basketball championship when I was in Grade 12. My biggest regret though ... I never played football. I love football. I mean, I really love football. But when I went into grade 9 I think I was like five foot two and probably didn't even weigh a hundred pounds soaking wet. I was scared to play. Afraid I'd get hurt. This is after playing two years on a little league football team with my brothers and their friends. It didn't make sense. Even after I went through my growth spurt and put on some muscle, I still didn't play.

Don't know what I was thinking.

One of the dumber things I ever did. Or in this case, didn't do. Damn!

I studied Business at Brock University. I hated it. It was boring. And my marks proved it. Not that they were terribly bad. But they weren't particularly good either. But it was here that I took my first computer course. And I thought these things were pretty cool. PC's were just starting to enter the marketplace. I thought I might change majors and study Computer Science and drop Business. I consulted my dad. My dad was foreign to computers and he encouraged me to stick with Business and if I still wanted to do the "computer thing" after I got my business degree then I should do that. He left the final decision up to me and I chose to take his advise. I ended up with a Bachelor's degree with a major course of study in Business and a minor in Mathematics. Never did go back for that Computer Science degree - second dumbest decision I made. But by that time I was so sick of school I just wanted to get out and start living! And, by that time, I had fallen in love and wanted to start a life together. She would be the one! And her name is Sophia.

Turns out Sophia and I had known each other most of our lives. Well, since grade 3 anyways. But our paths never rarely crossed as we had different friends and hung out in different circles. But, as fortune would have it, our paths crossed in 1982. Wow I thought. She was all grown up! But at the time, she was also dating someone else. Damn! As luck would have it though, our paths crossed again at a bar a few months later. She was no longer dating that guy. And the rest they would say is history. We got engaged in 1985 shortly after I graduated from Brock and we got married a year later in 1986. And, happy to say, still married. Quite an accomplishment nowadays. I give my wife a lot of credit. She has put up with a lot of crap from me over the years. I can sometimes be miserable, moody, depressed, moody, wishy-washy, pain in the ass, unhappy with my career, did I say moody. Well, you get the picture. I think the worst of it is far behind me now as I've grown older and hopefully, wiser. But she has hung with me through all that time. Thank you Jiffy Lube.

And during our time together we've raised two wonderful kids. Our daughter, Jessica, was born in 1991 and our son, Joshua, in 1994. Parenting has been a challenge. But I wouldn't have passed it up for anything in the world. If you want to learn about life, have children. There is nothing more challenging. Nothing more life altering. Nothing more rewarding than to raise a child. And we've been blessed with two. Ya, we've had our ups and downs. Our trials and tribulations. But I am so proud to be their father ... words cannot explain it. They are my life and my breath. And I would do anything for them in the world.

And that's about it for now. The rest is for my blog. Hang tight. Feel free to comment. Stay positive. And the rest will be ...

Life As I Know It!
Powered by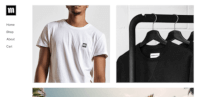 Create your own unique website with customizable templates.