MY NAME WAS RICKY


LIFE AS I KNOW IT
| | | |
| --- | --- | --- |
| It was 12 years ago today that I lost my dad. My #1 fan. As far as I'm concerned my father was taken far too soon. He was 76 years old when he left us. Some of you may think that 76 is a long time ... and it is. But considering the way my dad led his life, his passing was far too early and extremely unfair. | | |

While my dad was a smoker in his early years he was able to quit cold turkey in his middle years. About that same time he took up jogging. He could barely make it around the block when he started. But my dad never was one to give up. When he made up his mind to do something, there was no stopping him. So he persisted. Day after day. Week after week. Month after month. He got to the point where he was running probably 6 days a week, 5 miles per day. He even ran a marathon in his 50's. He also took up healthy eating. He ate well. But he never snacked. Rarely drank alcohol - an occasional beer now and then. He took care of himself.

So it was much to our surprise that shortly after he retired and was going to start enjoying his golden years that he was diagnosed with Alzheimer's. Lewy Body with dementia to be exact. We were shocked. He was having some issues but we just figured that he was getting older. But my dad hung in there and never gave up. Over the next several years jogging became walking. And walking became walking with a family member so he wouldn't take a tumble. My mom cared for him at home. It was a long, slow journey as his memory slowly began to fade away and conversations became non-sensical. Funny thing was that he never forget any of our names. Even if you called on the phone he knew our voice right away. And he always laughed and had a smile on his face.

After a couple of stints in the hospital for various ailments the final call came when he fell out of bed and broke his hip. The doctor didn't want to operate. But not operating meant that he would never walk again. And if my dad couldn't walk, well that just wasn't going to happen. We insisted that they fix his hip. And they did. The following day my dad was as lucid as he'd ever been. It was like he was him again. Talking and joking and laughing. We could carry on a conversation with him. It was like a miracle - until the day after that.

That day my dad slipped into unconsciousness never to wake again. He contracted pneumonia a little while later and after a few weeks, on April 10, 2004 he slipped away. Saddest day of my life. I was glad to be there when he passed and hold his loving hand one last time. My dad, my hero was gone.

​I can never thank him enough for all that he did for me and my brothers and sister. The sacrifices that he made to give us the life that we all enjoy today. I will be forever grateful to my dad ... and my mom. He was an awesome guy. The best. I miss him and I love him. Thanks dad.
Powered by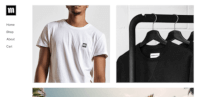 Create your own unique website with customizable templates.