MY NAME WAS RICKY


LIFE AS I KNOW IT
I'll be brief and short. The Toronto Raptors are my favorite basketball team in the NBA. But, they are NOT a championship calibre team.

Game 5 of their series against the Pacers was just another example of why they will not win an NBA championship ... never mind the Eastern conference. Come out flat for 3 quarters and are frankly, LUCKY, to pull it out in the fourth. At the start of the fourth quarter I turned to my son and said "they need a miracle. Indiana is gonna have to score no more than 10 points for Toronto to win". Little did I know that I was such a prophet. Needless to say I never expected that to happen ... but it did. I was ecstatic of course. I'd be lying to say that I wasn't. But after the ecstasy was over I came down to earth and the realization that Paul Pierce may have been right last season when he said that the Raptors just don't have "IT". Yes the raptors defense clamped down in the fourth. But Indiana scored only 9 points! 9 freakin' points!! The Raps were lucky to escape with the victory.

They have played too inconsistently to go deep into the playoffs. Their stars have yet to shine - Demar did show up in Game 5 thank goodness. Their bench has been steady and it is because of their bench and Jonas that they are still in this thing. I expect them to take this series. I'll be really disappointed if they don't. But I think that will be the end of the road for them. I really do ... unless they can get it together, play four full quarters, the stars align and shine, and they come out and play they way that they are capable of playing for an entire game. They need to show the intensity they showed in that fourth quarter. Everyone needs to show up and play ball! THEY NEED TO GET IT!

I hope I'm wrong. No one would be happier than me. Well, I guess the players will be happier. The coaching staff. The organization. Their families. Ok ... so there will be some happier than me. But I'd be really happy if I'm wrong. And, if I'm right, the last thing I want to hear is what a successful season they had. That they set new franchise records. They won a first round playoff series against a seven seed. Sorry ... but that's not a championship. In my mind, anything short of winning the Eastern conference would be a failure.

LET'S GO RAPTORS!

Powered by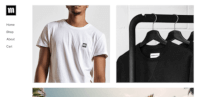 Create your own unique website with customizable templates.