MY NAME WAS RICKY


LIFE AS I KNOW IT
Here we are. My first ever Blog post. Welcome! This is my blog to discuss thinks about life ... as I know it.

I plan on filling my blog with life's little musings from my life's perspective. Perhaps I'll dole out a little advice. Talk about my favorite sports teams - Dallas Cowboys and the Toronto Raptors. Family is always important to me and raising a family is as important a "job" as I have ever known. Collective thoughts. Words of wisdom. Sharing of some humorous stories and observations. That's the idea anyways.

And my Mac. I love my Mac. I hope to share some hints and tidbits on how to get the most from your mac based on my several years of experience. And I can't forget about my hometown of Niagara Falls

I hope I will keep you entertained. Make you think about stuff. And keep you engaged. This is your blog every bit as mine and I look forward to your comments and commentary.

​Let's enjoy the ride. Thanks for tuning in.
Powered by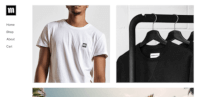 Create your own unique website with customizable templates.