MY NAME WAS RICKY


LIFE AS I KNOW IT
It's been a while since my last post. One of my many New Year's resolutions is to post more regularly. So here's my first post of 2017! In my last post I wrote about Jessica's and Derek's move to Whitehorse, Yukon. Well ... in just a few days it will have been one month since they left so I thought I might give you a little update.

First off, I'm happy to say that they arrived safely. Their flight was a little late taking off from Toronto because the plane had a flat tire. Yikes! Glad they found that! But other than that, things went reasonably well. When they arrived in Whitehorse I think it was a balmy -28 degrees celsius ... that's -18 degrees farenheit for you non-metric readers. Suffice to say it was frickin' cold. Derek's cousin, Neil, met them at the airport. Thanks Neil! They shared a nice meal together and they spent their first night in an AirBnB that they had booked. Ironically, Neil and his girlfriend, Courtenay happened to be friends with the owner.

The following day they got their unfurnished apartment. It's a cute little two bedroom and, quite by coincidence, their building is immediately behind Neil and Courtenay's building. Small world I guess when it comes to Whitehorse.

They spent the next little while stocking up the place with food, toiletries and the like. Derek shipped his car to Whitehorse and they had a bunch of stuff packed in it ... but ... his car hasn't arrived yet. With any luck, it should be arriving this weekend. Getting furniture on the cheap was another matter. They had pre-ordered a bed before they left and picked that up shortly after arriving. They figured they would easily be able to pick up some other furniture on the cheap by buying used. Turns out used furniture in Whitehorse is a hot commodity and hard to get your hands on. Nonetheless, they persevered, and were able to get a rather comfortable looking couch. Their landlord gave them a dining table and some chairs. And Derek made a splendid coffee table out of some pallets. I think he plans on making some night stands as well.

And if getting situated wasn't enough, Jessica started her new job a couple of days after arriving with the Government of Yukon as a Speech Language Pathologist. It's had the usual challenges of starting a new job and getting to know everyone, complicated a little by starting it in an entirely new city while trying to get settled in a new place. But, other than that, the job is going well and she is liking it quite a bit.


​Transportation has been a bit of an issue. They rented a car for the first 3 weeks in hopes of Derek's car arriving in the meantime. But the cost of that was starting to add up so they got rid of the rental car and started using public transportation or borrow a vehicle from time to time. Thanks again Neil! Let's just say that Jessica was not a big user of public transportation. And, she never really had to because she always had a car to use. So the bus and taxi system of Whitehorse have been getting a little business from my daughter. The verdict: Cabs are very expensive and the bus ride is very long. Cab fare is about $25 to work and the bus takes her about 40 minutes to get to work. By comparison, I think it takes about 15 minutes by car. Let's hope Derek's car arrives real soon!

The weather has taken some time to get used to as well. When it's cold ... it's friggin' cold. But Jess says it really is a different kind of cold. It's not a damp kind of cold that we get here in Niagara Falls. It's a "dry" cold which really does make it more bearable. But when it's less cold and sunny she says it is absolutley beautiful. She's really excited of the surrounding mountains and the scenery along the Yukon River.


​The daylight ... or lack of it, has taken some getting used to as well. Sunrise is around 10am right now and sunset is around 4pm. Slowly but surely the days are getting longer and the kids can't wait. Granted I think it's reversed in the summer time, so they'll have to get used to all the day light come June.

They've been getting in some social time. Neil and Courtenay have been great introducing them to their friends. They go to trivia night most Wednesday's and have been able to get out to the movies a few times as well. But I guess the theatre is something to be desired. It's the old-fashioned kind from my era with no stadium seating. Eek! I hated those theatres. I always seemed to have the biggest guy in the theatre sitting smack dab in front of me blocking my view of the movie. But it has popcorn ... which always puts a smile on Jessica's face.

As you can imagine, we are in touch everyday. We have discovered the wonders of SnapChat (still trying to get the hang of it) as well as Facetime. Never really had the need to use Facetime until now ... and I'm lovin' it. It's so nice to see them and talk to them at the same time. Gives a parent that assurdness that everything is all right. The grandmother's love it too. They miss them dearly and they love to come over and have a little chat with them. It's particularly funny when they are watching a SnapChat video that Jessica sends and the grannies start talking back to it. And if we are not doing that, there is always texting and. of course, a phone call. How archaic!

But so far ... so good. For the first time on their own I think they are doing a great job and making a great transition to their new home. When Derek's car arrives, they plan on taking in more of the sites of Whitehorse and the surrounding area and take in the many winter activities that are available to them. I'm very proud of them and what they've done in such a short time. Love you guys! Stay warm. LOL!
Powered by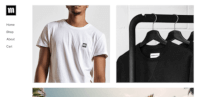 Create your own unique website with customizable templates.