MY NAME WAS RICKY


LIFE AS I KNOW IT
January 17, 1991 ... one of the best days of my life! Our first child came into the world to greet us. We named her Jessica.

Fast forward ...

December 11, 2016 ... one of the saddest days of my life! My little princess is all growed up and leaving the nest for the first time. She's moving to Whitehorse, Yukon. Now I don't know how familiar you may be with Canadian geography, but Whitehorse is about as far north and west of our hometown of Niagara Falls as you can get. It's right up there next to Alaska. People have joked with me - "whatever did you do to piss your daughter off that much that she's moving that far away from you"? I just laugh it off cuz I know nothing can be further from the truth. I love my daughter (and son) more than life itself and I know that my daughter loves me. I know that she's looking to start a life on her own. To find her own way. To make her own way. And ... to have an adventure while doing it. I am so very proud of her to do this.

As any young graduate knows ... jobs are tough to come by. Jessica holds a Masters degree and is a Speech Language Pathologist. But even with all her credentials finding full time work is tough. She's had as many as three jobs at one time to make her way. She's been fortunate to find some meaningful work locally filling in for maternity leaves at Hotel Dieu Shaver Hospital (which she absolutely loves) but alas those were coming to an end. So rather than sit idly by and "wait" for something to happen she persisted to make her own "luck" and found a job working as a Speech Pathologist for the Yukon government in Whitehorse ... and I couldn't be prouder.

As a parent, the comforting part is that she's not doing this alone. Her boyfriend Derek is going with her. Derek is blazing his own trail too. He's finding his way and I know he will have great success in Whitehorse. Besides, they make a great team together, and together the "buddies" will be there for each other, making a life together and taking great care of each other.

​

It will be an enlightening experience for both of them being their first time on their own. But as I said, they make a great team. They compliment each other. I know Jess will be there to encourage Derek and pick up his spirits on those days when things might not be going so well. And I know Derek will be there for Jess when she is having one of her "moments". They're adventurous and free spirited and I think Whitehorse might just be the place for them to start a life together. It's a beautiful city that has a lot of outdoor adventure to offer. I know the two if them will take great advanatge of that as they muddle their way through the challenges of day-to-day life.

The other comforting thing is that, with today's technologies, they will never be that far away. Texting, Skyping and Facetiming will be a regular occurence for sure. Probably daily at the start ... right Mama bear? Jess has told me to get a SnapChat account so I'll guess I'll have to look into that. And I'm sure there will be time to visit them next summer. And who knows, maybe even sooner.

And finally to Jess and Derek, if you're reading this ... please know how proud we are of you both. As you start this chapter of your life together there are a few "rules" to follow. Never go to bed angry with each other. Always say "I Love You". Righty tighty, lefty loosey. Lots of hugs go a long way. Be there for each other at every moment ... good, bad and ugly. Keep the toilet seat down. And, most of all, laughter really is the best medicine. If all else fails, hold each other, and laugh. I've seen the two of you often enough togther to know that won't be difficult to do.
​
​We love you and wish nothing but the best for the both of you. Enjoy your adventure together, seize every moment of every day and make each and every one of those moments count.

And hey, if time permits, start your own website/blog to record your Yukon adventure for everyone to enjoy. You can do it for free using Weebly! If I can do it, you can too! Love you guys!
Powered by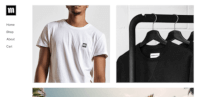 Create your own unique website with customizable templates.